Where Kids Learn to Read Online!
ABC Reading Eggs is the breakthrough online reading program where children learn to read using one-on-one lessons, interactive activities and online books.
The program is designed to make learning to read fun, easy and highly rewarding for children aged 3 to 13. It includes hundreds of online reading lessons, thousands of interactive games and over 2500 e-books that children love – and it really works!
Register now for your 4 week FREE trial of ABC Reading Eggs now – no obligations, no credit card required!
Why try ABC Reading Eggs for FREE?
Provides a child-safe online learning environment, free from advertising and distractions
Uses the breakthrough phonics method to help your child learn to read
Promotes faster learning using motivational elements and highly rewarding online reading games
Features over 2000 online reading books for kids of all ages.

WATCH: Bec Judd and her son Oscar love ABC Reading Eggs!
ABC Reading Eggs is designed to help children learn to read online by building skills in the five essential components of reading: phonics, phonemic awareness, vocabulary, fluency and comprehension.
Actual screenshots from inside

ABC

Reading Eggs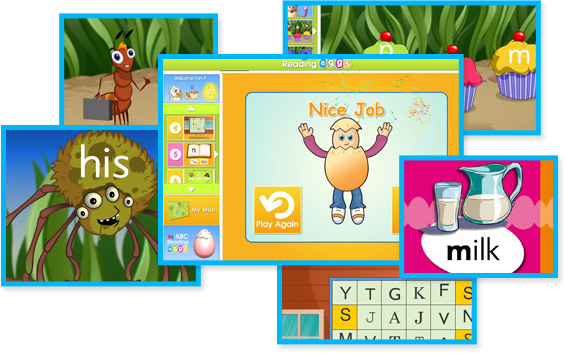 Join more than 10 million users worldwide and start your 4 week FREE trial of ABC Reading Eggs now!