A Breakthrough In Learning To Read!
ABC Reading Eggs Will Teach Your Child To Read In Just Weeks! Register For Your FREE 2 Week Trial Now.
ABC Reading Eggs provides a comprehensive range of online reading lessons, activities and e-books that teach kids aged 3-13 the core literacy skills needed for reading success.
Featuring colourful animations, catchy music, sing-a-longs and heaps of exciting rewards, ABC Reading Eggs makes learning to read fun and motivational for children.
Take advantage of our FREE 2 week trial and see how your child's reading improves with ABC Reading Eggs!
Proven Reading Results
Over 90% of parents have noticed an improvement in their child's reading ability since using ABC Reading Eggs
Based on solid scientific research
Used by over 10 million children (and counting!)
Developed by expert educators with 20+ years' experience
Money-back guarantee
Why Children Love ABC Reading Eggs
120 lessons, thousands of interactive activities, motivating rewards and songs
Makes reading fun – kids want to learn
One–on–one lessons match your child's ability
Detailed assessment reports show and recognise progress
Suitable for children aged 3 – 13
Actual Screenshots From Inside ABC Reading Eggs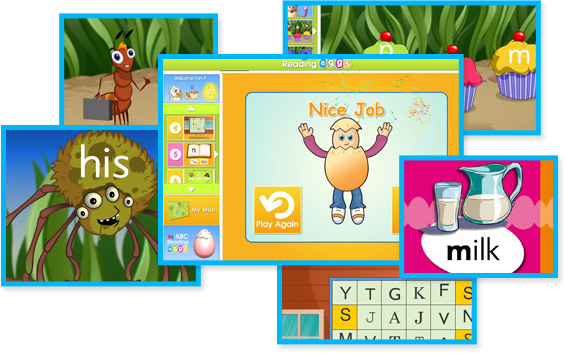 Join more than 10 million users from over 169 countries and claim your FREE Trial of ABC Reading Eggs now