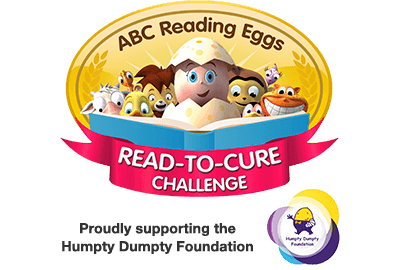 Join the 2018 Read‑To‑Cure Challenge and improve your child's reading ability while supporting a great cause!
It's time to register for the annual Read‑To‑Cure Challenge — a FREE event that will see thousands of kids across Australia and New Zealand reading to raise over $50,000 for the Humpty Dumpty Foundation.
From 7 August to 4 September, the Read‑To‑Cure Challenge will encourage kids from home, schools and preschools to improve their literacy skills while raising vital funds to help children in hospital. All funds raised will go towards life‑saving medical equipment for sick and injured children in paediatric wards, neonatal units, maternity and emergency departments in Australian hospitals.
The event will see children complete as many reading lessons as possible from the ABC Reading Eggs and ABC Reading Eggspress programs, which are designed specifically for children aged two to 13.
For every lesson completed, ABC Reading Eggs will donate $1 to the Humpty Dumpty Foundation up to the value of $25,000. Your child will LOVE seeing their donations grow as they complete as many lessons as possible at home or in class.
Plus, there are fantastic prizes to be WON! The top 10 children who complete the most lessons will win Apple iPads, iTunes gift cards, family movie passes, and vouchers for Booktopia, Bright Star Kids, Smiggle and JB Hi-Fi!
The last Read‑To‑Cure Challenge saw over 10,000 children take part. This year, we hope to double that figure and get 20,000 children participating from all across Australia and New Zealand.
ABC Reading Eggs CEO Matthew Sandblom says, "There are 120 reading lessons and 212 comprehension lessons in the Reading Eggs program. The lessons are designed to be fun, interactive and highly engaging," says Sandblom. "We're keen to come together with the Humpty Dumpty Foundation to inspire young kids to take action and help out other kids. The most special part about the Read‑To‑Cure Challenge is how motivated so many young kids are to help others just like them who are going through a tough time."
Mr Sandblom noted that the Challenge will not only help support a vital cause, it will also help Australian and New Zealand children build their literacy skills and get excited about reading books.
"Learning to read is a fundamental part of succeeding in school and later life. Studies have shown that children who learn to read for enjoyment develop a broader vocabulary, stronger literacy skills, and perform better overall in school than those who don't. Parents play a significant role in encouraging a lifelong love of reading. But many find it difficult to slot in the suggested minimum of three to five times per week of reading with their child, let alone turning it into a daily routine."
Sign up for a special 5 WEEK FREE TRIAL of ABC Reading Eggs before 4 September to take part in the Read‑To‑Cure Challenge!