Using decodable readers in the classroom
We know from research that explicit, systematic and sequential phonics instruction plays a pivotal role in structured literacy practices.
So where do decodables fit in and how do they align with the science of reading? To answer this question, it's essential to first understand what decodable readers are and what sets them apart from other types of texts.
What makes a book decodable?
Decodable books or readers are texts that only contain letter-sound or grapheme-phoneme correspondences (GPCs) and tricky words taught in a systematic synthetic phonics program. Decodable readers are specifically designed to reinforce recently acquired phonics knowledge, with a strong emphasis on letter-sound relationships. When using a decodable reader, students should not come across words with unfamiliar letter-sound correspondences that have not been explicitly introduced in their lessons.
The research behind decodable readers
Decodable readers are rooted in the phonics approach of the science of reading. They support the science of reading by allowing students to develop essential phonics skills in a controlled manner to strengthen and reinforce letter-sound connections.
Numerous studies have confirmed the benefits of using decodable texts. Research has shown that by using these texts, learners can better focus on letter-sound connections and decoding strategies. Learners using highly decodable texts have also been shown to apply their letter-sound knowledge more consistently and accurately and rely less on teachers for pronunciation in comparison to students who read texts with fewer decodable elements.
Why are decodable readers so important for early reading success?
Once specific letters and sounds have been taught to students, decodable readers can be employed in various instructional settings, including small-group explicit reading instruction, whole-class guided reading or independent reading.
Young learners take great pleasure in using decodable readers to reinforce their newly acquired decoding skills and this sense of achievement is highly motivating. This positive feedback loop can lay the foundation for early reading success by providing students with the crucial confidence to continue their learning-to-read journey.
What makes a good decodable reader?
A defining characteristic of decodable readers is their exclusive use of pre-taught letter-sound correspondences and tricky words, which are sometimes referred to as common exception words.
Information about the correspondences and tricky words included in the decodable reader is typically presented like this: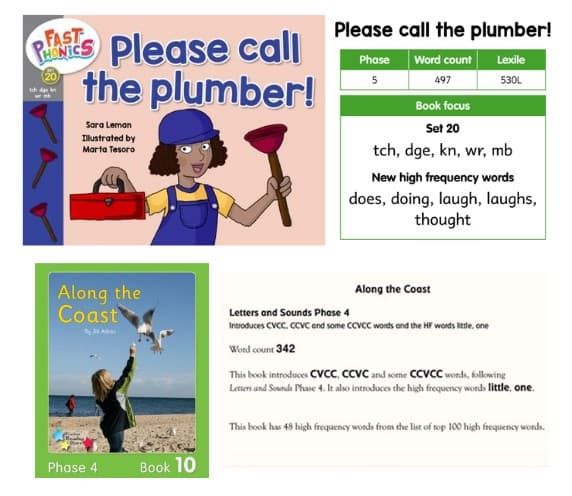 As is the case with most student literature, a diverse selection of fiction and nonfiction books featuring engaging illustrations can enhance the reading experience. However, in decodable readers, students are not expected to rely on visual cues.
When selecting a quality decodable reader, be sure to look out for these features:
Clear presentation of letter-sound correspondences in sequences

Legible and well-spaced text, with adequate font size and clarity of print

Proper use of punctuation throughout

Frequent inclusion of target letters and sounds in a variety of words

Incorporation of high-frequency sight words and tricky words.
Where to find decodable readers?
Navigating the vast array of decodable resources available can be a daunting task when searching for the perfect fit for your classroom's phonics instruction.
Fortunately, there are reputable publishers such as BookLife and Ransom Reading Stars, renowned for offering an extensive selection of decodable readers.
The ABC Reading Eggs Library boasts an impressive collection, with over 110 phonics decodable readers from the Ransom Reading Star series and more than 180 decodable readers from the Booklife Readers series. But that's not all – within the ABC Reading Eggs Library you'll also find an additional 60 decodable readers that align with Fast Phonics, a systematic synthetic phonics program and core component of the ABC Reading Eggs program.
Within the ABC Reading Eggs Library teachers can access over 450 online decodable readers, all from the convenience of one location. Plus, the decodable readers in the ABC Reading Eggs Library follow a systematic phonics progression, making them invaluable assets for schools with a strong emphasis on phonics-based instruction.
Elevate your students' learning with decodable readers in ABC Reading Eggs
What sets the decodable readers in ABC Reading Eggs apart is the inclusion of comprehension quizzes at the end of each book. These quizzes are specifically designed to develop students' comprehension skills and encourage discussions about the books they've read. They are also a quick and easy way to assess your students' understanding of the material.
For younger or less advanced readers, lower-level titles also come with audio support. This feature allows early learners to demonstrate their comprehension without needing to articulate or write their answers.
You can enrich classroom learning even further with decodable book collections in ABC Reading Eggs which can be tailored to suit your students' phonics skills. These book collections are easy to create and highly accessible, making them ideal for whole-class lessons, guided reading, or independent reading sessions at home.
With an extensive selection of over 450 decodable readers all in one place, say goodbye to spending hours looking for the right decodable readers for each Letter and Sound phase of your phonics instruction. Simply log in to ABC Reading Eggs today or take advantage of our FREE 30-day school trial.
When used in conjunction with a systematic and synthetic phonics approach, decodable readers empower students to decode words with confidence whilst boosting their fluency, comprehension and overall reading success!
Looking for extra phonics support?
An ABC Reading Eggs school subscription also comes with Fast Phonics, an evidence-based online systematic synthetic phonics program for beginning readers or students who need extra phonics support.
The Fast Phonics Decodable Books Catalogue is a great resource for teachers and lists all the GPCs for each book, no matter which phonics program you're using in the classroom.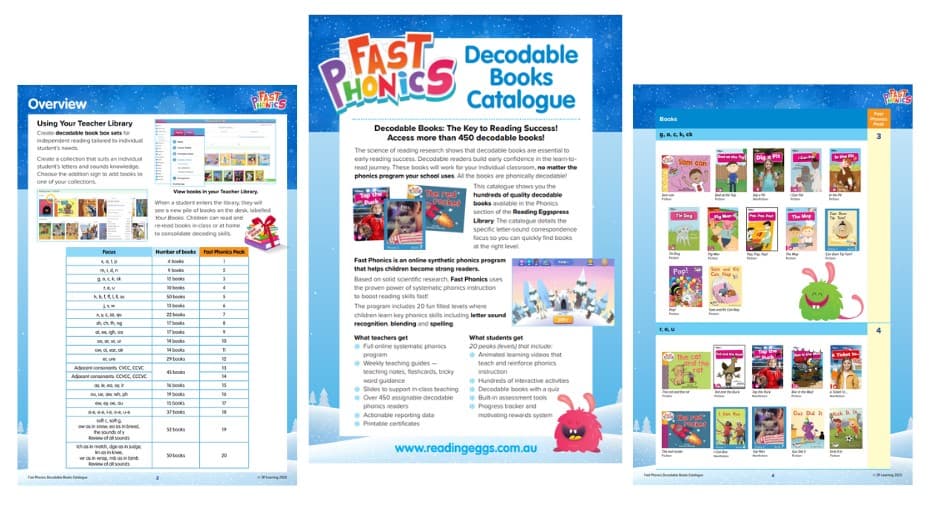 If you're already familiar with Fast Phonics, check out our Fast Phonics Supplementary online library books to help you plan more efficiently. Get a snapshot of all the letters, sounds, high frequency and tricky words covered in each Fast Phonics decodable reader. These resources can be found in the 'Quick Links' section of your Teacher Dashboard, under 'Fast Phonics'.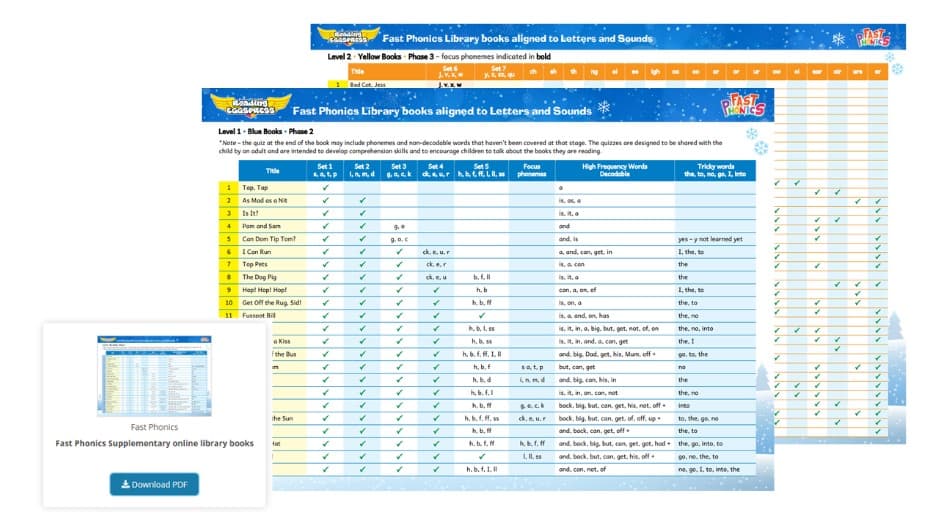 Wish to take learning offline? All the Fast Phonics decodable readers can also be downloaded and printed for revision at home.
Log in to your ABC Reading Eggs account now for instant access to 450 decodable readers. New to ABC Reading Eggs? Start with a FREE 30-day school trial!