Sign up to redeem your exclusive 15% discount on ABC Reading Eggs today!
The multi-award winning online reading program for 2–13 year olds
We're offering an exclusive 15% discount on a 12 month ABC Reading Eggs subscription for members of the International Association of Infant Massage!
Simply sign up for a FREE trial and you can apply your IAIM member discount code in the 'Redeem a promo code' box when you select a '12 month Reading Eggs subscription' upon checkout.
ABC Reading Eggs makes learning to read easy and fun by combining books with online reading games and activities. With the help of one-on-one lesson plans, educational games, and captivating e-books, the program helps children learn phonics and develop the literacy skills they need for a lifelong love of reading.
Why you and your child will love
ABC Reading Eggs
ABC Reading Eggs makes learning phonics and basic reading skills a truly enjoyable experience for children ages 2–13.
The program is built around recognised learning principles and scientific research proven to improve children's reading skills.
Lessons are matched to your child's reading level – so activities are never "boring" or too challenging.
Your child will earn rewards as they progress – so they'll feel proud of their achievements and excited to keep learning.
You'll have access to detailed assessment reports to track your child's progress.
Includes a comprehensive program of 120 reading lessons, 96 spelling lessons and 200 comprehension lessons developed by a team of experienced primary educators.
Over 1700 e-books are available online – including illustrated chapter books, full colour nonfiction books and a range of classics.
Suitable for children ages 2–13 years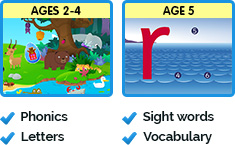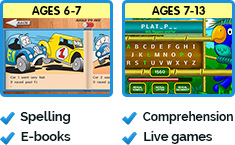 Here's what your child will experience