Candice Warner on how her kids thrived with their reading during a challenging year
One of the biggest curveballs 2020 threw our way was the unchartered territory of homeschooling.
For some, learning upheavals away from the classroom proved to be a tough challenge. Test results for NSW students recently revealed that many had fallen behind in the key areas of reading and numeracy throughout the past year.
Assessments obtained by the NSW Department of Education in the second half of 2020 found the average reading scores for Year 3 students was up to four months behind the same age group for the previous year. Year 5 was also two to three months behind in both categories.
While much of the encouragement to keep up core skills was left to parents, this proved to be a hard task for many given the pressures of working from home.
Media personality and mum of three, Candice Warner, said fortunately her two oldest girls Ivy, 6, and Indi, 4, thrived under lockdown with their reading. However, she and her husband, cricketer David Warner, empathised with parents who struggled with the challenges.
"Homeschooling definitely had its challenges, particularly as Ivy had just started kindergarten and is learning to read and write," Candice said. "It wasn't easy managing the attention span of a six‑year‑old, however the ABC Reading Eggs app made my job as a mum [and makeshift teacher] so much easier."
The former Ironwoman said both Ivy and Indi have always had a keen interest in books. "Either David or myself read a story to the girls every night and they take turns choosing the book. It has always been really important to us as a family that we create good learning habits early on."
Candice, who most recently featured in SAS Australia, said that Ivy and Indi have been actively engaged in online reading program ABC Reading Eggs from an early age. Aimed at kids aged two to 13, the program, which offers a free 30‑day trial, makes learning to read easy and fun for young kids using a progressive sequence of interactive lessons, colourful animations, fun games, songs and activities. The comprehensive program designed by Australian educators has been used by over 10 million children worldwide.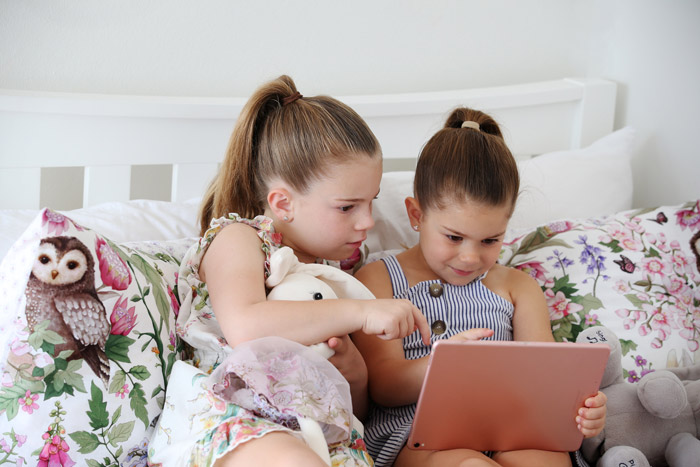 Ms Warner feels the online app has been instrumental in encouraging her kids' love of reading from an early age. She plans to introduce the app to her youngest daughter Isla, 18 months, when she is two and ready to start with the junior portion of the program.
"The girls have been doing ABC Reading Eggs for over two years now, and I'm really thankful that we got onto it early because lockdown would have been much harder if the girls had not been as engaged in the app," she said.
"I'm a big believer in the importance of developing reading skills from a young age but it still needs to be fun while they're learning – kids still need to be kids! The app has been unreal for my girls."
Katy Pike, lead publisher of the program, said ABC Reading Eggs allows kids to enjoy screen time in a positive, safe way. "It's a really fun, engaging form of learning," she said. "Most of the time kids think they're just playing a game and don't even realise how much they're actually learning."
The program includes hundreds of one‑on‑one reading lessons that teach children essential early literacy skills. Parents can also access detailed assessment reports to track their child's progress and print out certificates and worksheets which complement the program.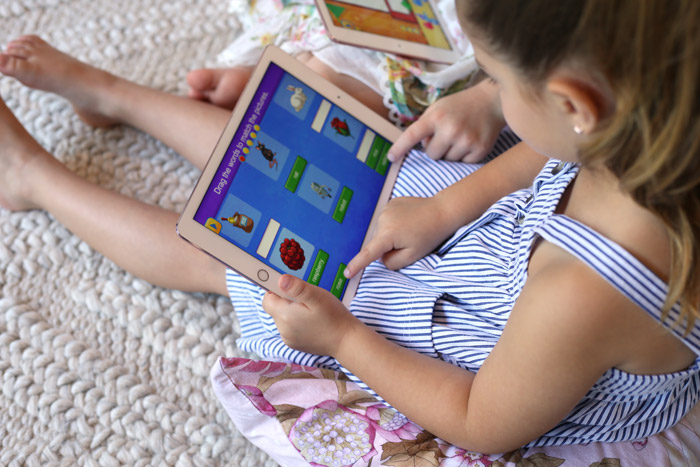 "Based on scientific research and the most up‑to‑date learning principles, ABC Reading Eggs uses a highly motivational reward system which keeps children engaged while they learn to read," she explained. "It also includes an online library of over 2500 children's books to suit all reading levels."
Ms Pike said a recent study conducted in the US for ABC Reading Eggs which assessed 500 kindergarten and Year 1 students found that during the 2019–20 school year, students made substantial progress using the app. This included the COVID lockdown period.
"Over 80 per cent of the Year 1 students started the year below grade level. By the end of the year, almost 80 per cent of students were working at or above grade level. On average, the students spent 29 minutes per week using ABC Reading Eggs and progressed 1.18 grade levels during the 2019⁠–⁠20 school year. The results of the study were enormously validating."
Ms Pike says many parents find it difficult to know where to start when it comes to teaching their kids to read. "However, ABC Reading Eggs is created to make a real difference at home, making it as easy as possible for children to learn the many skills they need to learn to read and further develop their comprehension, spelling, grammar and writing skills."
"As a mother of four, I know that it's a wonderful journey to be part of. Watching your child enjoy that sense of achievement as they learn each new skill is always a pleasure."
To sign up for the free 30‑day trial, go to www.readingeggs.com.au/candice1.