Get your child ready for school with ABC Reading Eggs
The multi-award winning online reading program for 2–13 year olds
If your child is about to start school soon, now is the time to start getting them into some good reading habits to prepare them in the best way possible.
Developed by a team of Australian educators with over 30 years' experience, ABC Reading Eggs combines a range of interactive reading lessons and e-books to help emerging readers begin their journey towards a lifetime of a reading success.
Take advantage of our special 2 week FREE trial today and join the 91% of parents that have seen a noticeable improvement in their child's reading skills since using ABC Reading Eggs.
ABC Reading Eggs features:
120 reading lessons that travel through 12 different maps
Exciting rewards and certificates to enhance your child's motivation
Over 2500 e-books including titles for early readers
Catchy tunes and loveable characters that make learning fun
Self-paced lessons that are matched to your child's ability
Parent assessment reports to track your child's progress
Suitable for children ages 2–13 years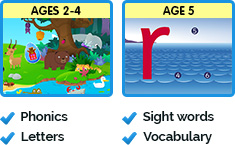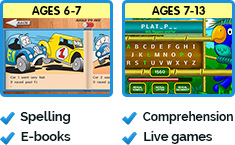 Here's what your child will experience