With so many children's reading apps on the market, it can be hard to know which one lives up to its claims when choosing the best program for your child.
ABC Reading Eggs is the multi-award winning online reading program designed specifically for children aged 2–13. We asked parents, teachers and homeschoolers to tell us what sets ABC Reading Eggs apart from apps like ABCmouse, Hooked on Phonics and Starfall. Read our in-depth comparison below.
Start your FREE trial of ABC Reading Eggs
ABC Reading Eggs is the multi-award winning reading app that helps children learn to read in just weeks.
Free Trial
ABC Reading Eggs is designed by real teachers
When you give your child some screen time, it's important to make sure it's truly benefitting them (and isn't just going to keep them glued to the screen for a few hours).
ABC Reading Eggs is designed by a team of passionate and experienced educators who understand the importance of covering phonemic awareness and phonics in learn-to-read programs.
In fact, the creators of ABC Reading Eggs have been publishing leading educational resources in Australia for more than 30 years. This means you can be assured your child is learning essential literacy skills while they play.
ABC Reading Eggs incorporates offline learning too
A love of reading should be nurtured beyond digital screens. ABC Reading Eggs doesn't just provide a complete online reading curriculum: children have access to hundreds of offline worksheets that can be downloaded and printed for free.
We encourage parents to use the corresponding worksheets after each lesson. There's also a beautiful range of book packs which can be purchased separately to supplement the program.
"I just want to thank you for such a wonderful program. I discovered ABC Reading Eggs at the beginning of this year and started my daughter on it just before she commenced preschool. She loved it so much that she took one of the books to school to read to her teacher. Her teacher was amazed. Over a very short period my daughter went from having no reading knowledge other than the alphabet and her name to reading at a Year 2 level. I have shared ABC Reading Eggs with a lot of parents and will continue to do so. Thank you once again!"

– Mel
ABC Reading Eggs is based on scientific research
There are so many aspects to learning to read, which is why it's so important to find a program that is based on proven and effective learning principles and the most up-to-date research.
The phonics method of learning to read is proven to be the most effective way to teach children how to read. ABC Reading Eggs uses a systematic phonics method that guides children through structured, interactive lessons.
Children start by learning letter-sound correspondence and gradually progress to master all five components of reading: phonics, phonemic awareness, vocabulary, comprehension and reading fluency.
ABC Reading Eggs is trusted by teachers and proven to work
ABC Reading Eggs is the leading online reading program in Australia, and is currently used in over 12,000 primary schools worldwide. To date, more than 20 million children have already used the multi-award winning learning program, which puts it ahead of other Australian-made reading programs such as Literacy Planet.
One of the main reasons behind ABC Reading Eggs' lasting popularity is its proven effectiveness. Over 91% of parents who have used ABC Reading Eggs report a visible improvement in their child's reading ability within a matter of weeks.
Not only does ABC Reading Eggs really work, it's proven to improve literacy skills in children of all learning abilities.
Parents and teachers report breakthrough results in children with autism, children in remedial and intervention programs, and a huge number of children who have struggled to learn to read prior to using ABC Reading Eggs.
Why not read our independently verified reviews here.
"I just wanted to say a big thank you. My son has been struggling with his reading. He is in Year 1 and nothing seems to hold his interest. By chance we came across your website last night and he couldn't have been more engrossed, [I] had trouble getting him away from the computer. First thing this morning he was ready to go back on the program again. Thank you, thank you, thank you."

– Emily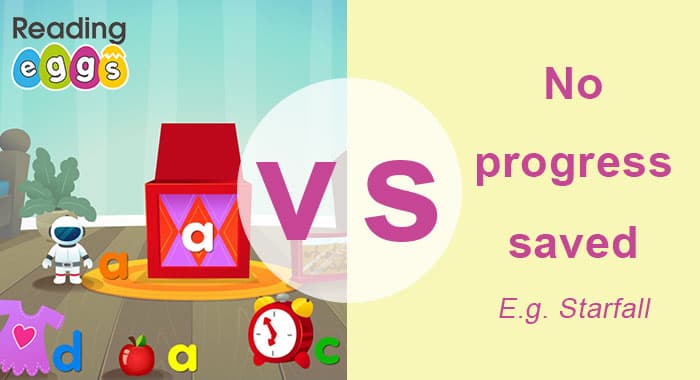 Records progress: Unlike many free reading apps on the market such as Starfall, ABC Reading Eggs remembers your child's progress whenever they log in, allowing their skills and knowledge to grow each time.
ABC Reading Eggs remembers your child's progress
Unlike most free reading websites like Starfall, ABC Reading Eggs never forgets where your child is up to.
From the moment they complete the placement test and get matched to the perfect level, their progress and data is instantly saved. They can log in at any time of the day to pick up where they left off.
The progressive sequence of lessons makes sure each individual child learns at his or her own pace. The one-on-one activities are never "boring" or too difficult, and parents have the option to adjust progress, repeat lessons or reset the placement test at any time.
Start your FREE trial of ABC Reading Eggs
ABC Reading Eggs is the multi-award winning reading app that helps children learn to read in just weeks.
Free Trial
Each account can hold up to four children, and parents can view detailed reports to track each child's individual progress. These show exactly where a child is improving and where extra attention may be needed.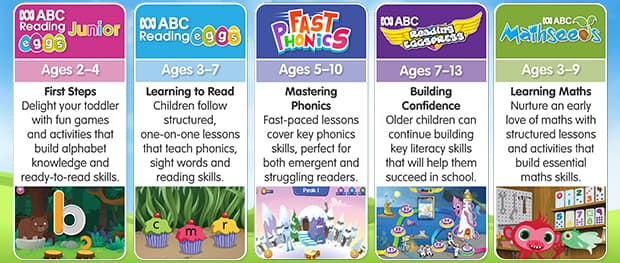 ABC Reading Eggs Supports your child throughout the entire reading journey
ABC Reading Eggs is the most comprehensive online reading app for children aged 2–13. It covers the five essential components of reading: phonics, phonemic awareness, vocabulary, reading fluency and comprehension.
It's the only program that actually grows with your child, from the moment they learn how to sound out simple words, to the day they confidently dive into their very first chapter book. Unlike other apps on the market, it is truly built to last for many years.
When you subscribe to ABC Reading Eggs, your child receives access to the entire learn-to-read suite, which includes three full programs:
ABC Reading Eggs Junior: designed to teach toddlers aged 2–4 basic alphabet skills and phonemic awareness.
ABC Reading Eggs: teaches children aged 3–7 how to read by building phonics skills, sight word recognition, spelling and vocabulary.
ABC Reading Eggspress: where children aged 7 and up build comprehension, vocabulary, spelling and grammar skills, learning to form their own ideas about texts and feeling motivated to read for both meaning and enjoyment.
The ABC Reading Eggs suite can also be purchased as a combined subscription with ABC Mathseeds – our online maths program for ages 3–9 designed by the same team of expert educators. Learn more about ABC Mathseeds.
"...I have four kids using ABC Reading Eggs. My younger two are in Kindergarten and love it! They ask to do it every day. My older two are on second grade and they love it too. They like both the ABC Reading Eggs and ABC Mathseeds sections. I've seen an improvement in my kids' literacy skills with letter/sound recognition and ability to decode words...It's something they can do independently and I can track their progress. I also get email updates with progress reports and when they finish a section. This helps me know what they've learned and helps me to know where they are. I look forward to my older kids using the ABC Reading Eggspress section soon."

– Jennifer K., Homeschooler
ABC Reading Eggs is homegrown right here in Australia
Unlike most of the other major reading apps, ABC Reading Eggs was created by Australian educators, and is the leading reading program in the country, used in over 11,000 primary schools.
Why is this so important? Well, that means lesson instructions and words are spoken and pronounced in an Australian accent, and that words are spelled in Australian English (e.g. colour instead of color, favourite instead of favorite, and recognise instead of recognize).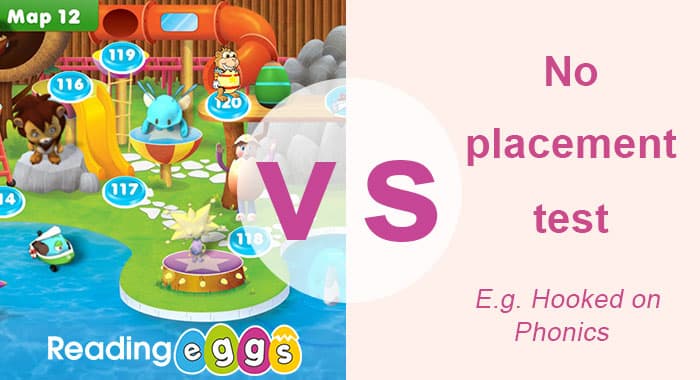 Placement test: ABC Reading Eggs is unique because it offers a placement test, so your child can start where he or she will get the most out of the program.
We offer a free trial period—with no strings attached
We want to make sure that ABC Reading Eggs is the perfect fit for your child, and we think it's only fair to let you try the program without any obligations.
That's why we invite all new families to take advantage of our no-obligation free trial period, which unlocks instant access to our entire learning suite (including ABC Mathseeds, reading worksheets and our library of over 3000 e-books!).
It only takes a few minutes to sign up online. We even offer a 30-day money-back guarantee if you change your mind after purchasing.
Start your FREE trial of ABC Reading Eggs
ABC Reading Eggs is the multi-award winning reading app that helps children learn to read in just weeks.
Free Trial
*Users who sign up via the ABC Reading Eggs app on the Apple App Store will have the option to provide their credit card details upon signup to get their first month free.