We're all about the importance and joy of reading here at ABC Reading Eggs, so of course we had to get in on the act, for this annual day that highlights just how important literacy is in children's lives. Established by UNESCO in 1967, this event is celebrated each year on September 8th, serving as a reminder of the transformative power of reading and education.  
Support your child's literacy journey with an ABC Reading Eggs free trial 
We're passionate about nurturing a lifelong love for reading in children. Our science-backed program offers a fun and engaging way for kids to build essential literacy skills, with personalised lessons, interactive activities and over 3,500 captivating books. Get our free trial today and watch your child's literacy abilities flourish. 
Free Trial
In the spirit of International Literacy Day, we're spreading the love of reading with easy and exciting literacy ideas that you can adopt at home and throughout the year, with fun games, engaging activities and access to thousands of e-books for kids worldwide. 
International Literacy Day 2023 focus: Overcoming challenges 
The theme of this year's International Literacy Day is, 'Promoting literacy for a world in transition: Building the foundation for sustainable and peaceful societies'.   
This is something we can all relate to! The pandemic threw us all some crazy curveballs, especially when it comes to how kids learn. Lots of young learners had to deal with their usual routines getting messed up, switching to online learning and let's be real, it wasn't always smooth sailing. 
ABC Reading Eggs primed children for literacy success during COVID-19 
In the middle of all the challenges, ABC Reading Eggs stepped up to support young learners. The adaptability and experience of ABC Reading Eggs made sure that children aged 2–13 continued to receive high-quality literacy education even in a rapidly changing world.  
Studies have shown the positive outcomes of ABC Reading Eggs' efforts during this period, highlighting its effectiveness in maintaining and improving children's literacy skills. For example, one study showed that during the 2019⁠–⁠2020 school year, with half the year in remote learning due to COVID-19, Kindergarten students who spent just 26 minutes per week using ABC Reading Eggs advanced by 1.1 year levels. 
Learners spent more than 43 million hours using our platforms to learn in a fun, interactive online environment. Kids love playing in the program, and parents are pleased when children are learning instead of playing video games or watching TV." – Katy Pike, Chief Product Officer at ABC Reading Eggs 
The program's interactive and engaging approach helped children stay motivated while learning from home. As ABC Reading Eggs provides an initial placement test, this enabled learners to begin at their own perfect level, advancing from there at their personalised pace. With this flexibility to access the program from anywhere, at any time, children had the opportunity to revisit lessons and refresh any skills they may have forgotten. Parents also found comfort that they could rely on a trusted, established program.  
As a busy mum of a child who is struggling to get a handle on the strange world of written English, ABC Reading Eggs is an absolute godsend and I am truly grateful to you guys for putting so much thought into creating this fantastic program. The songs make us all laugh. I have two older boys who I can't keep away from the computer when my first grader is on it so I am going to join them up as well! Keep doing what you are doing, you must enjoy it because it really shows." – Mel 
6 easy ways to celebrate International Literacy Day with ABC Reading Eggs 
1. Play reading games
Reading games are a fantastic way to blend learning and fun for kids. They'll help to ignite your child's enthusiasm for reading while building their skills. Check out our huge range of engaging reading games covering all key skills from phonics to comprehension and more.   
2. Printables practice
Engage children's creativity with printable activities that reinforce literacy skills. These hands-on exercises can be a great addition to their learning journey.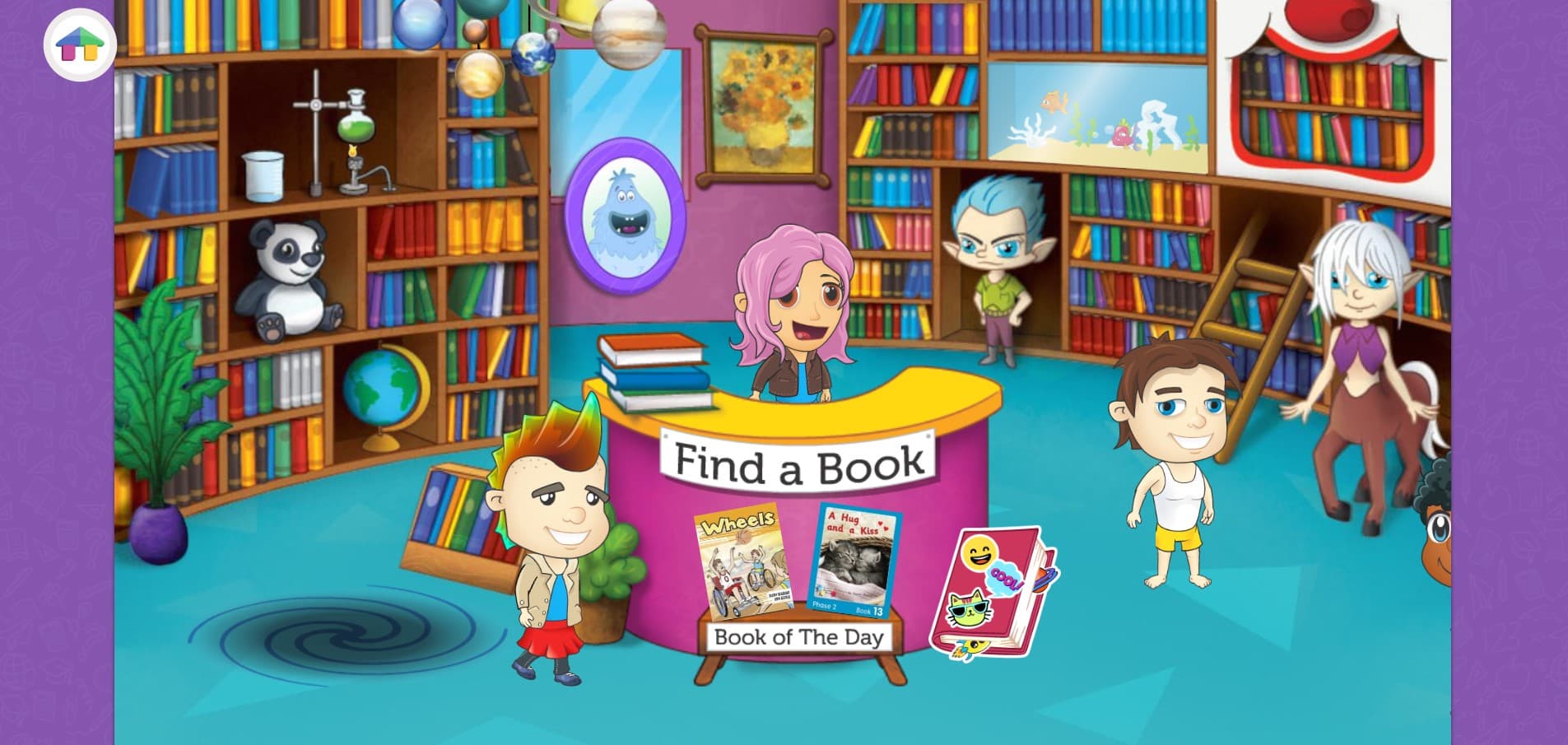 3. Read books from the library
With a library featuring over 3,500 books, ABC Reading Eggs offers an unparalleled selection for young readers. This International Literacy Day, take the adventure a step further by encouraging kids to dress up as their favourite book characters, bringing the stories to life. 
4. Watch fun literacy-based videos  
Visual learning is an effective tool and ABC Reading Eggs has incorporated it into their approach. Check out our educational, fun videos on everything from the alphabet, phonemic awareness skills or spelling games. Best of all, your child will build their literacy skills while enjoying themselves – and not even realise it!  
5. Add books and customise your Reading Journal 
Your child can celebrate and support their daily reading, take ownership of their reading journey, engage in 'book talk' by rating and commenting on each book and stay motivated with exciting literacy-linked rewards. 
6. Outdoor literacy activities  
Literacy learning can happen anywhere and some children particularly thrive learning on the go. Use a reading activity from the program as a jumping-off point to inspire outdoor literacy ideas and extend what they've learned in the program. If they've been learning letters and sounds, point them out on a walk. If they've been reading, ask them to spell out familiar words while doing a supermarket shop.  
The pandemic highlighted the importance of adaptable teaching methods, not only during crises but also when children are homeschooled, learning on the go or unwell. This period in time showed us that learning never stops, whether children are in a traditional classroom or facing unique circumstances. This is why ABC Reading Eggs' success during COVID-19 and commitment to versatility aligns so well with this year's International Literacy Day theme. 
My children love ABC Reading Eggs. They enjoy learning to read and spell with the lessons. My son struggled with other phonics programs. But he loved ABC Reading Eggs. Opening a new egg after each lesson kept him motivated to finish the program. My daughter loved the Skills Bank part of the program. She was glad ABC Reading Eggs had a spelling section." – L. Taylor
Celebrate literacy in your child's life every day of the year with ABC Reading Eggs! 
Watch your child develop their literacy skills with our multi-award winning program. Based on solid scientific research, the program has been shown to increase children's reading skills in just 15 minutes a day. Boost your child's reading abilities effortlessly with our fun games and engaging lessons. Start your 30-day trial today! 
Free Trial
 So, as ABC Reading Eggs celebrates International Literacy Day, we hope the suggestions above and our innovative, adaptable education solutions can make a lasting impact on your little one's life. We hope they have lots of fun and feel empowered to thrive as confident readers and learners, no matter their learning style or circumstances. 
For more info check out the case study below of ABC Reading Eggs during the COVID-19 shutdown: